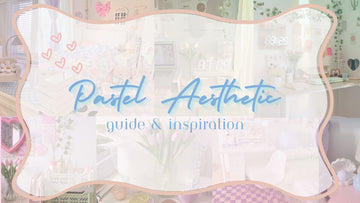 There is no doubt about it that the world is filled with chaos and busyness; finding moments of tranquility and peace can seem like an impossible task. However, one emerging trend is sweeping across various mediums, capturing our attention with its soft and serene beauty. Enter the pastel aesthetic – a visual delight that embraces delicate hues and gentle tones to create a soothing atmosphere for both our eyes and souls.
One of the beauties of this aesthetic is the fact that it's filled with little niche aesthetics like Pastel Academia, Danish Pastel, Kawaii, and so many others. Needless to say, it's adorable, calming, and just screams "springtime"! So, how can you embrace the pastel aesthetic for your home? We'll uncover it all here!
The Power of Pastels
So, the pastel aesthetic is simply just embracing pastels, those pale light colors that make you think of springtime. Honestly, one of the reasons why the pastel aesthetic has always been just a long-standing trend in home and fashion is for the fact that it's timeless and serene. Plus, there are a lot of exquisite psychological effects; just think about it, if you're surrounded by something like a cherry blossom tree or a field of daffodils, you instantly feel great, right?
The psychology behind why pastel colors bring about feelings of peace and relaxation lies in their lightness. Unlike bright or bold shades that demand attention, pastel colors gently blend into the background, creating a subtle and harmonious environment- making it a major go-to for homes and fashion.
The Delicate Pastel Aesthetic Palette
Pastel colors are known for their ability to evoke a sense of calm and serenity. These soft and delicate hues instantly offer a soothing effect on our emotions. They create an atmosphere of tranquility and can help reduce stress and anxiety. It's honestly the perfect palette if you want to go for a bedroom that screams "tranquility." For the most part, there are a variety of colors that you can expect, with each offering its own charm and each one helping out with creating certain niche aesthetics under the pastel aesthetic.
Pale Pink: This gentle shade of pink is often associated with femininity and tenderness. It brings a touch of sweetness to any space or design.
Mint Green: With its cool and refreshing tone, mint green evokes feelings of nature and renewal. It adds a subtle pop of color without overwhelming the senses.
Lavender: Symbolizing grace and elegance, lavender is a soothing hue that creates a relaxing atmosphere. Its muted purple undertones give it an air of sophistication.
Sky Blue: Reminiscent of clear blue skies, sky blue brings a sense of openness and freedom to any setting. It promotes feelings of calmness and serenity.
These aren't the only colors; you can expect yellows, creams, soft turquoise, and similar palettes to that of the Vanilla Girl aesthetic, the kawaii aesthetic, as well as a few others. The beauty of the pastel aesthetic is the fact that there is a range of pastel colors for you to pick from.
The Different Types of Pastel Palettes
One of the most amazing things about the pastel aesthetic isn't only about the numerous sub-niches under it, but it's the fact that even the palette itself is pretty diverse. You're not only going to find pastel color palettes that are reminiscent of springtime, but you can expect a few others too!
Soft Pastels
Soft pastels are a popular choice for those who want to embrace the delicate and dreamy side of pastel aesthetics. These colors, such as baby pink, powder blue, and mint green, create an air of softness that is soothing to the eye. Soft pastel aesthetic is often associated with femininity and springtime. Essentially, this is the standard pastel aesthetic.
Candy Colored
For those who prefer a bolder take on the pastel aesthetic, candy-colored pastels offer a playful yet vibrant option. Think bright bubblegum pinks, lemon yellows, or turquoise blues. Candy-colored pastels add a pop of fun and energy to any look or space. If you're someone who adores the kawaii aesthetic, especially the gamer-kawaii aesthetic, then this is hands-down going to be for you!
Moody Neutrals
While most people associate pastel aesthetics with light hues, there is also room for moody neutrals within this trend. Colors like
dusty rose
or
smoky lavender
bring depth and sophistication to the calmness of traditional pastels. A perfect example of this palette would be the academia aesthetic as a whole. Maybe pastel academia is too bright, but you want the opulence that
dark academia
brings without the moodiness. In this case, the moody neutral pastel palette is perfect for creating that sweet spot!
Types of Pastel Aesthetics
Honestly, it's incredible how the pastel aesthetic takes on a different approach than other aesthetics. It's like it knows it's not a one-size-fits-all, but it's able to accommodate. There's a whole world out there underneath the pastel aesthetic, so if you think just the basic pastel aesthetic is a little too basic, then why not take a look at some of these niches?
Vintage Pastel
The 1950s just screamed pastels, and this trend is basically a timeless one. Think faded rose pinks, pale mint greens, and soft aquas. Vintage pastel combines the elegance of the past with the soothing tones of the present.
Minimalist Pastel
The minimalist pastel aesthetic pairs the simplicity of minimalism with the softness of pastel hues. Light, airy spaces with clean lines and a limited color palette create a sense of tranquility.
Soft Girl Aesthetic
Taking nods from both the Y2K aesthetic and the kawaii aesthetic is this perfect blend of pastels and edge that brings the soft girl. She's soft, yet, she has a bit of flare. In a way, this aesthetic goes against most pastel aesthetics because it embraces the combination of darker tones with contrasting pops from pastels.
Pastel Academia
Similar to Dark Academia and Light Academia, you're going to find the very cute and not-as-serious pastel academic. The concept and décor are essentially the same, but instead, you're not going to incorporate any bold and dark colors whatsoever.
Danish Pastel
It's a cute Scandinavian interior design but with a fun twist. Instead of nothing but crisp whites like the traditional Scandi décor, it's pastel, rounded corners, some waves, and funky shapes. It's basically the Scandinavian aesthetic if it knew how to have fun.
Cottagecore Pastel
An all-time favorite and one of the "faces" behind the pastel aesthetic! Pastel Cottagecore celebrates the beauty of nature, simplicity, and rustic charm. Infuse this aesthetic with pastel shades for a dreamy twist. It's really all about giving those rural vibes, but in the spring, rather than summer or autumny vibes that the Cottagecore aesthetic usually gives off.
Kawaii Pastel
Another super popular aesthetic is the kawaii aesthetic - but with a heavy pastel twist! Since this is all about embracing cuteness and playfulness. Bubblegum pinks, lavender purples, and baby blues dominate this aesthetic.
Coastal Pastel
Think of VSCO Girl and Coastal Grandma aesthetic meeting, like the daughter of the Coastal Grandma aesthetic and the mother of the VSCO Girl- that's what the coastal pastel aesthetic is. It channels the tranquility of coastal living with the coastal pastel aesthetic. So you can definitely find the soft blues, sandy beige, and seafoam green that pay homage to the ocean without being too prim and proper like the Coastal Grandma.
Fairycore Pastel
Just like Cottagecore, Fairycore can be dark and moody or bright and pastel-themed. You can expect to find soft purples, ethereal pinks, and delicate greens that help create a whimsical atmosphere.
Decorating a Pastel Aesthetic Room
Pastel Wall Decor
When it comes to wall decor for the pastel aesthetic, there aren't any major rules except to stick with the pastel color palette, although small pops of color can really shake things up. The beauty of the pastel palette is the fact that it helps make rooms feel larger, brighter, and more open than they actually are. Choose a main pastel color for the walls and use lighter or slightly darker shades for accent pieces and trims. You're going to want this to feel transitional throughout the room. But of course, it all still depends on the niche aesthetic you're after.
 If you're keen on the pastel cottagecore aesthetic, then you'll never go wrong with some cute pastel drawings. If you're someone who wants to embrace the moody pastel aesthetic, then this poster pack could do just the trick.
Don't have a specific aesthetic? No problem, because even something like a pastel clouds wall collage or tapestry can easily contribute to that swoon-worthy pastel paradise. Overall, just remember it's about keeping up with this color palette and avoiding anything that's too dark. Choosing the right wall decor is one of the greatest parts of creating the perfect pastel aesthetic for your room!
Pastel Furniture
Like a lot of other aesthetics out there, the pastel aesthetic is not only soft in color, but it's soft in texture too. This means that there's going to be a bit of simplicity on the eyes, and the corners are going to be at a minimum. It's not just about rounded flower shaped throw pillows that lack corners, but even for items like mirrors- especially blob mirrors like in the Danish pastel aesthetic. You might also want to look for sofas, chairs, and tables in pastel shades that complement your chosen palette.
For tables, these should ideally be rounded too, for that softness, and you could even take it up the next level with a cute tablecloth. Overall, when it comes to pastel furniture, it's pretty easy to achieve; it's more about keeping it either neutral (like white or cream) or some type of pastel tone. Plus, rounded edges and curvature are essential; it helps create a light feeling in the space while at the same time making it feel bright.
Pastel Bedding
Your bed needs to hands-down be the centerpiece, the center of attention for your bedroom. So that's why you need to be super selective about what bedding you pick. Honestly, if your room is filled with pastels from the walls to the floor, but your bed is contrasting this black bedding, then it's going to throw off the whole room. Even the style of the bedding too. So, it's all about creating something cute, something really cute, but comfy at the same time.
You can pick bedding that's reminiscent of cotton candy, but if you're looking for something a little more fun, then you could never go wrong with a soft and simple washed cotton bedding set! But of course, there's a variety of different pastel aesthetics, so maybe some ruffle lace bedding could help create that pastel academic theme if that's what you're after. Overall, the key is to create that specific nice pastel aesthetic that you're after, and that's the beauty of the pastel aesthetic- the wide variety!
Pastel Room Accents and Lighting
What's a room without any accents? When it comes to the pastel aesthetic, you're going to want to think about delicate accessories such as vases, gorgeous nods to pastel glass candleholders, pastel checkered rugs, and even the essentials that you'll need daily, like an alarm clock. The key is to add accessories that are both functional and aesthetically pleasing. Look out for small items in subtle pastel shades that can be easily incorporated into existing decor without overpowering the overall aesthetic of the space.
But it shouldn't end there; lighting is everything, not just the ambiance, but the overall presentation for your room too. You'll want to opt for soft diffused lighting and maybe even consider pastel lampshades for your desk or nightstand. But even something like these mini pastel folding crates or fairy string lights could really help create a magical, ethereal atmosphere in your space, especially before winding down for bed.
Are You Ready to Create a Pastel Paradise?
The pastel aesthetic invites us into a world of soft colors, dreamy landscapes, and innocent enchantment. With its blend of pastel hues, kawaii influences, and an appreciation for all things whimsical, it's a style that celebrates the beauty in embracing your inner child and finding magic in the everyday. The pastel aesthetic offers a charming and captivating way to infuse your life with sweetness, positivity, and a touch of dreamlike wonder, and it can all be done right in your bedroom!