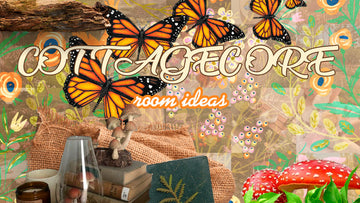 What is Cottagecore?
With its unique combination of farm elements and vintage vibes, it's easy to see why cottagecore aesthetic is increasingly becoming popular. From breathtaking florals to old-school handicrafts and fairy lights, more and more people are incorporating this ethereal aesthetic into their living spaces.
Known for exuding nostalgia and simplicity, the cottagecore aesthetic is definitely your best bet if you want beautiful and cozy living spaces. Here are 6 home decor items that'll help you create a cottagecore aesthetic room!
What items to choose for Cottagecore?
Planning to turn your bedroom into an ode to cottagecore? Then, investing in dreamy, vintage-inspired bedding is a must. This vintage-inspired set features a dainty wildflower print that will instantly brighten up the space, giving it an intimate and romantic vibe. To complete the look, wrap the bed frame with string lights or eye-catching foliage.
Bare walls are a huge no-no when you're going for a cottagecore aesthetic, so make sure to cover them with wall art. Popular choices include botanical postcards, small oil paintings, and handwritten letters; however, this beautiful poster is a great option too. Its retro butterfly print combines both "farm" and "vintage," making it the perfect addition to your room.
The cottagecore aesthetic is all about being one with nature, which is why it's important to incorporate design elements that bring the outdoors inside. A great way to achieve this is by filling the room with succulents and leafy plants but unfortunately, not all of us have green thumbs! If you aren't a big fan of gardening, then this 12-pack of artificial vines is definitely your best option. Style it with fairy lights to achieve a dreamy, wonderland effect.
No cottagecore room is complete without fairy lights! These add an ambient glow to the space, making it feel cozier and more intimate. They're very easy to incorporate too – for instance, you can choose to drape them around the bed frame or have them cascading down the walls. You can also use them to draw attention to a specific item, such as your bookshelf or vanity mirror.
From botanical prints to succulents and dried flowers, nature motifs are undoubtedly the crux of the cottagecore aesthetic. It's usually recommended to have random accessories and knick-knacks lying around but if you like home decor that serves a purpose, then these cool-looking coasters are a must-have. Designed to look like tree slices, these will perfectly complement the cozy, woodland vibe that you're going for.
Bright white lights are the exact opposite of the cottagecore aesthetic, so you'll need to invest in ambient lighting that gives off a warm glow. Apart from fairy lights, consider candles too. You can even go for scented ones if you want your room to smell fresh and nice all day long. Make the scene look prettier by putting them in these holders designed to look like tree trunks. Their rustic vibe will definitely elevate the space.
As an addition to big craft paper posters, try to make a wall collage of small pictures, dried flowers or stickers. At the same time, try to maintain the overall color palette of your room. In the case of cotagecore, these are light and dark shades of brown and dark green tones. You can alway find ready to use cottagecore wall collages on roomtery!
* * * * *
Which of these beautiful home decor items are you looking to add to your room? Do you have any other recommendations? Let us know in the comments section down below – we'd love to hear from you!
3 comments