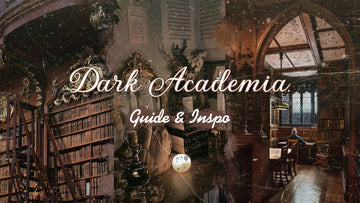 Trying to create Dark Academia Aesthetic room? We got you covered with this article! Find Dark Academia decorating tips and tricks to transform your room into intellectualism and aesthetic beauty haven.
What is Dark Academia Aesthetic?
Dark Academia is an aesthetic that is focused on classic literature, intellectualism, art and architecture. It is a part of a group of "Academic" aesthetics that are all about studying (reading, research etc.). Dark Academia room decor is a type of interior design that incorporates elements of this subculture into a living space.
Here're some recognisable features of dark academia decor:
Muted colors, such as brownish black, gray, shades of brown and dark green tints;
Vintage decor and accents: old books, vintage arts, antique furniture and desk accessories;
Natural elements: dark colored plants and flowers, wooden furniture and brass decorations incorporated into the room;
Art: paintings, sketches, sculptures and prints;
Cozy atmosphere: armchairs, warm blankets, soft warm and muted lighting.
Creating Dark Academia Aesthetic Room
Let's take a deep dive into this charming aesthetic and explore the ways you can make your own Dark Academia room, from choosing the right color palette to adding vintage accents and bedding, displaying classic wall art and sculptures, incorporating warm muted lighting, and adding personal touches.
1. Dark Academia Color Palette
The Dark Academia aesthetic emphasizes melancholy, muted hues like brownish black, dark forest green, and various tints of brown. These colors evoke a sense of mystery and sophistication, and can be paired with warm neutrals like beige to create a cozy ambiance. To assist you in selecting complimentary colors that go well together, think about utilizing a color wheel.
2. Two Main Ways of Achieving Dark Academia
 There are actually two ways to achieve dark academia vibes. One is more simple than other.
The first way to achieve a Dark Academia aesthetic in your bedroom is by incorporating room accents, decor, wall art, plants and other small touches that capture the essence of this charming aesthetic. This approach is relatively simple and can be achieved with just a few carefully chosen pieces, such as a vintage-inspired desk lamp, some old-fashioned desk accessories, aged paper posters, or even a shelf of books. By focusing on these small details, you can create a vintage and academic space that captures the core essence of the Dark Academia aesthetic.
The second way to achieve a Dark Academia aesthetic is by taking a deeper approach that includes buying vintage furniture, painting walls, and remaking floor coverings. This approach requires a bit more effort and investment, but can result in a truly stunning living space that will fully immerse you into dark academia aesthetic. By incorporating vintage pieces such as retro leather chairs or a hand-carved wooden bookcase, you can create a sense of history and sophistication in your room. Painting walls in muted, earthy tones and incorporating natural materials such as wood and stone will bring vibes of old university library. By taking this deep makeover approach, you can create true dark academia aesthetic room.
We will mainly stick with the first one as it requires less effort and investment.
3. Dark Academia Wall Decor
The easiest way to bring Dark Academia touch to your room is by hanging some wall decorations. Some of the most popular dark academia wall decorations are: vintage book shelves with old-fashioned books standing on them, antique maps, framed artwork or even newspaper cutout, scientific, botanical or zoology posters and framed mirrors.
There's always space for you personal touches. You can add your own sketches using aged paper (easily make it with black tea), collect and frame herbariums and anything else that will reflect your personality. Walls is a best place to display it. 
4. Dark Academia Furniture
Despite the fact that we have decided not to use furniture in this particular guide, we cannot ignore its importance for creating a complete image. Dark Academia furniture focuses on old and antique objects that have a sense of heritage and history. Dark Academia furniture frequently has brass hardware and dark wood finishes. Leather couches, antique tables, and bookcases are ideal for furnishing a room to seem warm and inviting like a private library.
5. Dark Academia Bedding
Bedding is an excellent opportunity to introduce pattern and texture to your room while maintaining the aesthetic's earthy and muted color palette. Bulky, hefty comforters and duvets in neutral beige or plaid patterns are some suggestions for giving your bed a dark academia appearance. You can also use dark brown throw blanket to add an extra vintage vibes. These bedding sets will also be a great choice for dark academia room.
Adding throw pillows and blankets in complementary colors and textures can also create a layered and cozy look. Consider choosing throw pillows with intricate designs, such as floral patterns or medieval motifs, to further enhance the dark academia vibe. Additionally, placing a few books on the nightstand or bed can emphasize the academic aspect of the dark academia aesthetic.
6. Desk Decor
Since dark academia is rooted in the pursuit of knowledge, your desk and study space are crucial components of room of this aesthetic. The most typical and at the same time unusual elements of dark academia desk decor are old typewriter, globe, bust figurines and vintage desk lamp. If you an implement at least one of them to your desk it will be so cool!
The moody academic atmosphere can be further enhanced by adding personal touches, like as photographs or artwork, bust shaped vases or pen holders in addition to vintage furniture. An artwork with elaborate designs or a framed image of a literary figure might bring character and dimension to the space. 
7. Room Accents & Plants
Plants and natural elements are a great way to incorporate a touch of nature and life into your dark academia room decor. Potted plants, such as ferns, succulents, or ivy, are perfect to start with. They are easy to care for and can thrive in a variety of lighting conditions. Consider placing a few on your desk or windowsill to add a pop of color and life to the room.
Another excellent approach to add natural elements into your room decor is through dried flowers and botanical prints. Lavender or eucalyptus dried flowers can give your room a rustic, vintage atmosphere. They can be hung on the wall or put in a vase. 
Adding natural scents, such as those from candles or essential oils, can improve the ambiance of your space and ease stress. To create a tranquil and peaceful atmosphere, think about applying scents like lavender or sandalwood.
8. Dark Academia Lighting
The classic lighting of dark academia room is of course candles. Using non colored, natural beige wax candles will transform your room into the writer's den or one of the rooms of the old university library. You can also use fake LED candles with pillar stands.
But if you wish to stick with artificial lights, ensure to use warm, soft ambient lights and avoid bright blue lighting. Our goal is to create candle lit atmosphere using table lamps, dimmable overhead lighting and other accent lights in the room. Floor lamps are also great to use in dark academia aesthetic. Place one in a corner or next to reading chair.
9. Finishing Touches
To complete the look of your dark academia room decor, incorporate finishing touches that reflect the aesthetic's vintage and antique influences. This could include objects like vintage cameras, antique telephones, old books, typewriters or ornate picture frames. You can also consider adding vintage or antique furniture pieces such as a vintage armchair or a wooden desk. 
Overall, with all given above steps you can create a dark academia room of your own. Navigate through them and don't hesitate to add you personal touches.
For more dark academia decor and inspiration visit our Dark Academia Aesthetic collection and dive into this mysterious and dreamy style with us!
1 comment