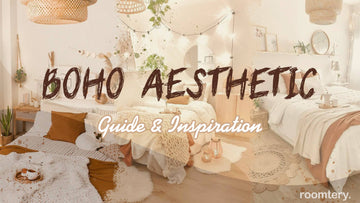 Table of Contents
What is Boho Aesthetic?
The boho aesthetic has its roots in the Bohemian movement of the 19th century, which celebrated creativity, individuality, and a rejection of mainstream society. However, the modern interpretation of the boho style really began to gain popularity in the 1960s and 1970s, during the countercultural movement. The boho style was embraced by hippies and artists, who were drawn to its relaxed and unconventional look.
The style then experienced a resurgence in the early 2000s, with the rise of boho-chic fashion and the popularity of boho-inspired music festivals like Coachella. Today, the boho aesthetic is a trend that can be seen in everything from fashion to home decor. In this article, we're going to share with you some tips, inspiration and ideas on how to decorate a boho aesthetic room.
How to Create Boho Aesthetic Room? 
As always we will start with defining color palette and understanging the main vibe of boho aesthetic and surf all the way to wall decor, bedding and room accents. This guide in combination with our main "How to Make Your Room Aesthetic Guide" will make your boho room transformation fun and easy.
1. Boho Color Palette
The color palette for boho aesthetic is typically warm and calming, with a mix of bold, bright hues as accents and earthy, muted tones as main theme. This color scheme wasn't formed randomly. Its nomadic philosophy assumed a life in harmony with nature, gathering food and goods including home decorations. That is why boho decor is focused on using natural materials like wood, cotton, linen, gold and silver metallic accents, incorporating plants and DIY decor. Mixing and combining it all in different patterns, colors and textures it manifests its free-spirited vibe.
2. What to Begin With
Boho aesthetic is an eclectic mix of patterns, colors, and textures that draws inspiration from various cultures and eras. In most boho bedrooms you can stumble upon on Pinterest, vintage elements like carved ceiling plinths, retro chandeliers, vintage mirrors and other old-fashioned elements from a variety of eras ranging from the Baroque to the late eighties can be combined with modern accents.
But don't be confused by this seeming complexity of eclectic style. The vast majority of boho aesthetic rooms have their walls minimalistically painted in warm white hues sometimes with accent wall painted in pale brown or creamy shades.
Tropical, floral an paisley patterns also work well as wallpapers for boho rooms, but be mindful of balancing out busy patterns with simpler, solid-colored pieces.
Summing up:
Use warm hues of white paint to cover the walls and ceiling
For accent wall consider brown, ochre, crimson or sage shades or use wallpaper with floral/tropical patterns
Try to use natural materials for floor covering or stick with earthy tones and wooden textures
Don't hesitate to mix vintage elements with modern style
If you feel that it's not enough details yet, - just hang on! We are moving straight to wall decorating and this is where you can unleash your boho spirit!
3. Boho Wall Decor
 Now that you have color palette, patterns and textures for your room sorted, we can move to the most exiting part of boho room makeover - the wall decorations.
Most popular elements of bohemian wall decor are macrame wall hangings from decorative macrame dreamcatchers to macrame shelves and wall mirrors.
Alongside with macrames many boho rooms are incorporated with gold metal accents like this moon phases wall decor, boho style wall collages, canvas gallery wall art, woven tapestries and suncatchers. With its intimate relationship with nature bohemian aesthetic is full of handcrafted weaved straw wall decor and lampshades. You can even try to make it yourself to add more personal touches to your room.
4. Bohemian Bedding
One of the hallmarks of boho decor is the use of multiple layers of textures. Mix and match textures such as woven fabrics, linen, and plush textiles like pillows and throws. Adding a variety of layers to your bed creates a cozy and inviting feel and that's exactly what we need. Your bed is your peaceful stronghold to unwind and recharge. Here are our best choices for bohemian bedding sets.
Use 2-3 different throws in the same color scheme, spice it up with few woven or tufted cushions with fringe or tassels to make cozy nest out of your bed. Again, don't hesitate to mix and experiment with materials, colors and patterns.
5. Plants & Greenery
Plants are one of the key elements of bohemian room decor. They can not only be a great piece of decoration but will also become your beloved friends and passion. Here are 10 most popular and easy to care plants that will fit perfectly your boho aesthetic room:
Devil's Ivy as ceiling plant to hang on macrame plant hangers
Calathea for contrast accenting
Monstera Deliciosa as main space filler
Rhapis to bring tropic vibes
Alocasia
Succulents and cacti as table plants
Dracaena trifasciata
Yucca
Ferns
But don't limit yourself to just this list as there are many other cute and beautiful plants to consider. 
6. Boho Decor & Room Accents
Hey, we did a great job following all above steps and there are few finishing touches left until your dream boho room is completed. Adding room accents is the most fun part of decorating any room and our case is not an exception. Here are some great boho accessories you can use:
By harmoniously combining these elements together you will get pretty impressive and almost completed look of your room.
7. Boho Lighting
 Open the curtains! With all that beauty we created in previous steps its important to let the sunlight in! If you just moved in a new house and able to choose the room to make it bohemian pick the one with windows to the south side.
As for artificial lighting, popular option for boho is string lights, which can be draped around the room or hung from the ceiling to create a cozy and inviting ambiance. The ones with black wire and round bulbs with warm white light are the best choice. Avoid harsh overhead lighting and use more ambient options like rattan table lamps and lamp shades, floor lamps and fairy lights. You can also add a dimmer switch to your main light source so that you will have another option to achieve relaxed, dreamy atmosphere in your room.
Summing Up
In conclusion, the key to making a boho aesthetic room is to embrace your individual style and combine various elements to build a warm, care-free atmosphere that feels like your sacred space. Don't be hesitant to mix and match patterns, textures, and colors that appeal to you since one of the best things about boho style is that it encourages individuality and imperfection. You may add distinctive touches by combining one-of-a-kind vintage or handcrafted objects, like a colorful rug from a local market or a macrame wall hanging you made yourself. Including hanging planters or a vertical garden into your bohemian bedroom will help you make the most of the vital presence of plants.
With these guide and your own unique touches, you can create a boho aesthetic room that truly feels like a reflection of you. Good luck!
1 comment