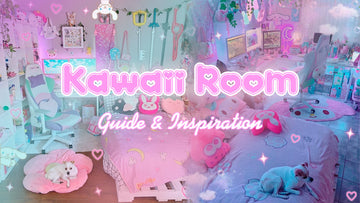 In this guide, we'll take you step-by-step through the process of transforming your space into a kawaii-inspired haven. From selecting the perfect color palette that embodies the dreamy and soft essence of kawaii, to choosing furniture pieces that are both functional and irresistibly cute, we'll help you curate a room that captures the heartwarming charm of kawaii aesthetics.
About Kawaii Aesthetic
Kawaii aesthetic, originating from Japan, is a cultural phenomenon that embraces all things cute, charming, and childlike. Although "cute" or "adorable" are what the word "kawaii" in Japanese translates, it refers to much more than that. It represents a distinctive aesthetic that celebrates innocence, playfulness, and whimsy.
 It is a quite long a history behind word kawaii in Japan and the culture it spawned in the form as we know it today. We won't go deep in that and just say that it has been prevalent in Japanese pop culture for a long time, especially among fans of anime and manga. You can see it in fashion, where apparel come in a variety of vivid and pastel hues, frequently accessorized with plush toys and adorable emoticons like hearts, stars, bows, and rainbows.
It also has many subgenres like "Yumekawaii", "Yamikawaii", "Gurokawaii" and few others. We may write a separate article on these later.
Guide to Decorating Kawaii Room
Whether you are a long-time devoted fan of kawaii aesthetic or just starting your journey with this style, this guide will take you through all necessary steps to make your room a really cute place.
1. Kawaii Aesthetic Color Scheme (Palette)
As always, we start with very important and basic point: the main color and color palette. 
Pastel tones are the cornerstone of a kawaii aesthetic, as they lend a soft and dreamy ambiance to any space. From gentle pinks, soft blues, and mint greens to delicate purples and sunny yellows, the kawaii color palette embraces a range light shades. When choosing a color for the walls you can keep it simple and stick with warm shaded whites and creamy colors. They would be a great base for all kawaii wall decor and posters you will be hanging later.
As you can see there are actually two options of completing kawaii room color scheme. One is to go with more saturated colors and another is to stick with pastels (which is "pastel kawaii"). It is entirely up to you what color ambience you would prefer to live in. You can even mix it all up around one main "foundational" color (and we'd suggest it to be pastel pink ;).
 2. Kawaii Furniture Options
If you are building your kawaii room from scratch there are few hints to follow. When choosing a study/work desk you can just keep it simple and get white color normal desk. Same for the wardrobe.
Then to add some special touches you can try to get cloud-shaped bookshelves, cute pink gaming chair with embroidered mascot of your choice, bunny or bear-shaped ottoman will look really nice if you will be able to make it match the color scheme.
Ottomans are often used by kawaii aesthetic lovers as it is simple a nice piece of decor that adds a bit of Japanese vibes. You can also use a big flower-shaped pillow instead of it.
3. Kawaii Wall Decor
Now as your walls are painted and furniture is set up it's time to have some fun with wall decor! It is one of the most important parts to make your room a kawaii paradise. The walls offer a fantastic opportunity to showcase both what reflects your personality, and what is required for every kawaii aesthetic room.
When it comes to must-haves of kawaii inspired wall decor you should consider using neon signs. Simple moon, heart or animal-shaped signs of different colors (most popular are pink, purple and yellow), or big acrylic based neon signs shaped of your favorite anime character. We have a great bunch of neon signs in stock and you should pick one as we've never met a kawaii room without it.
Other equally essential things to look at are: cute tapestries, wall collages and posters, paper lanterns, also try wall hanging heart shaped mirror and this digital clock. And if you have an enormous amount of plushies you can store them with style using this macrame hammock! One more thing to add are fake vines. They usually fit almost every kawaii interior but don't overdo it with them. Use 5-6 vines to fill the empty looking corner if there is one left.
4. Kawaii Bedding
Bed is always a centerpiece of any room and should represent the aesthetic you follow as much as possible. Luckily there's huge choice of kawaii bedding out there! You can easily choose from simple pastel linens to lush and gorgeous bedding sets decorated with lace and ruffle or maybe pink faux fur duvets! Check out our kawaii bedding collection for even more.
5. Kawaii Plushies
And of course when we talk about bedding it's not only the sheet set and quilt. It's also everything you style your bed with too! And plushies and pillows are just the essentials for any kawaii room! You will never ever stumble upon the photo of kawaii room with no plush toy. So throw some pillows on your bed, bring your plushie friends together and make this kawaii room even more cute.
6. Kawaii Lighting and Ambiance
As we noticed earlier, neon signs are the very important part of kawaii room ambient lighting. Along with them they often use LED Strips to highlight niches, ceiling corners, bed gap or decorate a desk. These remote controlled led light strips are the best decision to add an accent to your room. Simple thin wire string lights are also used for ambient lighting in kawaii rooms, but don't overdo with them.
Another really important source of light in kawaii rooms are desk lamps and cute nightlights. These are really essential for any kawaii room as part of desk decor that we will observe later. And as always - keep the balance. One desk lamp and one nightlight is enough to spice your room up.
7. Kawaii Desk Decor and Accessories
You may also know that kawaii aesthetic lovers often use very cute stationary and small desk accessories like tissue holders, phone holders, kawaii keyboards and pen holders, little acrylic memo boards or calendars. So there are many variants to make your desk look and feel kawaii. Start with choosing 2-3 desk decorations first and try to not overwhelm your desk with too much decor after time.
8. Kawaii Storage and Organization
Of course when using much cute stationary you need to store it somewhere. And here comes kawaii storage baskets and mini crates, mini desk drawers, shelves and pen holders. If we talk about about organizing more volumed stuff use simple white shelves or movable little cabinet with drawers. In other words we try to keep simple in a big scale and go a little bit more crazy when it comes to details. You can check the whole storage and organization collection to find find something for your fresh baked kawaii room.
9. Final Touches and Details
Hey! You've done a great job following all the steps above! Now it's crucial to focus on the minor details as you reach closer to finishing your kawaii-inspired room. These finishing touches can significantly improve the kawaii vibe and give your space a lovely sense of your own personality. Here are some ideas for using those extra cute details:
Washi Tape
Small Trinkets and Figurines
Your own artwork
Conclusion
Congratulations on completing this journey to create your own and unique kawaii aesthetic room! Throughout this guide, we've explored key points and provided insights to help you infuse your sacred space with the delightful charm of kawaii aesthetics. Follow them and don't hesitate to experiment and be creative with adding your personal touches.
With great love,
your roomtery team <3
See you soon!