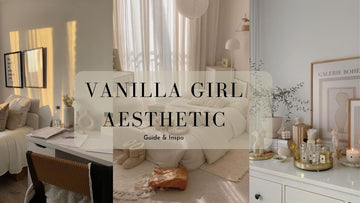 In the ever-evolving world of aesthetics, fashion trends, and even interior design, they all come and go in a flash. From minimalism to bohemian-chic, there is always something new to experiment with when it comes to revamping our living spaces, lifestyle, and our wardrobes. And now, there's a captivating aesthetic on the rise that has caught the attention of the internet the Vanilla Girl Aesthetic.
This gorgeous aesthetic embodies elegance, simplicity, and femininity, transforming any space into an ethereal haven. So let's dive into what defines this enchanting aesthetic and uncover its key elements that can be incorporated into your own room for a touch of timeless beauty and the essence of vanilla!
What is the Vanilla Girl Aesthetic?
The Vanilla Girl gives the nod to its processors like the That Girl aesthetic, the Clean Girl aesthetic, and even some hints of balletcore too. It's meant to embody expensive living, embracing being feminine, and of course, minimalism. Less is more with Vanilla Girl, and that's why she's so beloved. The Vanilla Girl knows to be selective with what she has, she knows to pick what's high quality, and like Marie Condo, she only wants accents that spark joy. She embraces calm spaces, and she's after living a calm, stress-free life, which is why she's always choosing vanilla colors for her room and wardrobe, like whites, beige, and soft yellows.
The Essence of the Vanilla Girl Aesthetic: Exploring the Core Elements of Her Room
With the Vanilla Girl decor aesthetic, it's not as simple as just choosing beige and white colors for your room. While yes, whites and beiges are a key component to the aesthetic, it's still far more than just that. It's about bringing in some softness and even a dreamy ambiance to the room. Here are some pretty recognizable features that bring out the essence of the vanilla in the Vanilla Girl.
• Vintage Charm
Exuding a nostalgic vibe, the Vanilla Girl aesthetic often incorporates vintage furniture pieces or decor items. These can range from antique dressers to retro lamps or lace curtains. You'll find for the fashionable side of the vanilla girl; it's essentially the same; it's really all about combining old and new for the perfect balance.
• Pastel Palette
Soft and soothing hues dominate the Vanilla Girl. She likes to be surrounded by soft shades, more than just white or vanilla. Think of shades of pink, lavender, mint green, and baby blue. These pastel tones create a serene atmosphere that promotes relaxation and tranquility.
• Delicate Accents
Intricate details play an essential role in capturing the essence of this trend. From dainty floral patterns on throw pillows to delicate lace trims on curtains or bedding, these subtle touches add femininity and refinement to any space.
When it comes to the Vanilla Girl, she's all about creating a sanctuary that radiates warmth and elegance while incorporating elements that evoke nostalgia for simpler times. Her outfits are simplistic, refined, yet beautiful, and it's the same for her room too. Everything is well put together and coordinated without any rigidness. 
Creating the Vanilla Girl Aesthetic Room
If you're wanting to create a room that any Vanilla Girl would love, then this breakdown is going to help. At the end of the day, it's all about embracing elegance and incorporating sophistication like the right color palette, providing enough grace, the accents, bedding, textures, and so on. So let's take a deep dive into what the Vanilla Girl has in her room!
Vanilla Girl Color Palette
As mentioned before, the Vanilla Girl loves light colors, from whites to beiges and soft pastels. These evoke an expensive appearance while, all the same time, reminiscent of a sanctuary. While it's totally up to you what colors you want, ideally, it's best to stick with light colors while mixing and matching. She doesn't wear just all white or just all beige, it's a mix of soft colors, and it's the same for her room. So, when you're working on the color palette for your room, you're going to want to incorporate off-white and cream tones, something that's perfect for the wall, but other shades like pale yellow, soft pink, muted peach, mint green, and baby blue are going to fit beautifully.
It's all about mixing colors that help make a unified space in your room, but if you're feeling adventurous and want something a little bold, then dark brown and even muted black shades could be perfect. Additionally, light neutrals are key in achieving the Vanilla Girl aesthetic. Think about incorporating colors such as beige, taupe, or pale gray into larger pieces of furniture, rugs, or carpets. These neutral shades will add depth to your space while maintaining its soft and gentle vibe. Using a color wheel might even help out if you're wanting to get the color palette just right.
Wall Décor
While the color palette is going to scream elegance, it's going to be the wall decor and other accents around the room that plays a major role in sophistication. Remember, the Vanilla Girl has her life together; she's like That Girl, but with a more sophisticated and refined look. You want to carry out your wall decor with grace and style.
So for starters, your wall decor needs to be in the same color palette as the rest of the space, and it needs to evoke maturity too. Posters can be seen as a tad bit childish, but framing them could instantly solve that (depending on the contents, of course). Having a floating shelf filled with decorative items such as dainty trinkets, perfumes, crystal clusters, or even books can really give the walls a charming look. For a fun pop, you could even go for a neon sign, as the Vanilla Girl knows how to have some fun.
You can never go wrong with displaying plants either; when it comes to the Vanilla Girl, she wants her space to be a place of peace, and giving nods to nature is the way to go. Ideally, you don't want any faux plants, so faux ivy hanging down the wall is a total no-go. But instead, embrace floral wreaths, dried floral arrangements, including small plants on shelving, or even add a tiny bit of boho and incorporate a macrame pot hanger with a plant cascading down. When it comes to plants, they're neutral enough to where the green can blend in beautifully, and it'll even give the room a more relaxing vibe too.
Vanilla Girl Furniture
 What furniture would the Vanilla Girl have in her room? Well, she's all about simplicity and minimalism, so you wouldn't use a lot; it's more about the essentials- beautiful essentials, that is. The Vanilla Girl loves modern elements and vintage elements, so it's all about combining old with new. You might want to look for vintage or even vintage-inspired pieces that offer curved lines, ornate details, and bonus points if they're in pastel, especially the upholstery.
Curtains aren't often too thought about when it comes to room aesthetics, but it's just as important too; you're going to want to opt for some flowy curtains in soft colors or subtle patterns that allow natural light to filter through and create an ethereal ambiance. Overall, it's about furniture pieces that look expensive and timeless and offer rounded edges and curvature, all while still making the space feel bright and open.
Vanilla Girl Bedding
The bed is the center of any bedroom; it's the main component, it's the statement piece. So, when it comes to tying your room together, your bed is going to play the biggest role of them all, especially with the Vanilla Girl aesthetic. The Vanilla Girl has a cozy bed; it's beautiful, out together, and comfy, but it's not as rigid or stiff as the all-white hotel bedding. Luckily, it's not hard at all to create the perfect Vanilla Girl bedding.
With the Vanilla Girl, you don't have to have an all-white bed. In fact, ruffle lace bedding sets are perfect for adding a touch of cuteness, but you could even go with dusty shades for a minimalistic approach or even go with ribbed bedding for more texture. Some throw pillows and blankets are okay, but the key is to go for something that's more on the minimalistic side, so go with the mantra of "less is more."
Room Accents and Lighting
Even though the wall decor is important, the decor in other parts of the room is going to play a strong role in the aesthetic, but the overall atmosphere of the room too. It's really about creating that balance of minimalism where the room isn't boring, but there isn't too much going on, either. Whether it's the desk, shelf, or bedside table, there should be some accents here and there, and that goes for the lighting too.
Just try to keep things a bit simple, but don't be afraid to make some elements pop, either. For instance, a cute night light that fits the color palette can be a great accent while at the same time being ideal for giving the room some ambiance too. You're never going to go wrong with adding spiral candles, not just for lighting, but these alone make the perfect minimalistic accent.
Last but far from least is adding plants. While having natural plants is key, a few faux plants like Eucalyptus here and there won't hurt either (if you lack a green thumb), but for a more distinguished look that adds a bit of grace, you could instantly go with a cute vase filled with dainty florals. It's not just about accents for the sake of aesthetics. Still, Vanilla Girl also utilizes functionality, such as her mirror she used for her skincare, the jewelry tray, or even her perfume tray. You shouldn't overthink the decor and the lighting too much, as the key is to have some accents in the room, so nothing is maximalist.
Are You Ready to Become the Vanilla Girl?
Your room is meant to be a place to relax and unwind, and the Vanilla Girl offers a breath of fresh air with its tranquil effects. The world is filled with constant noise and distractions, in the Vanilla Girl goes against that, so we can safely say that this aesthetic is here to stay. But what matters most, regardless of any aesthetic you want to follow, is that you're adding your own personal spin. It's really about incorporating elements that you like about the Vanilla Girl aesthetic, but at the end of the day, your room should reflect who you are, not a trend.
1 comment