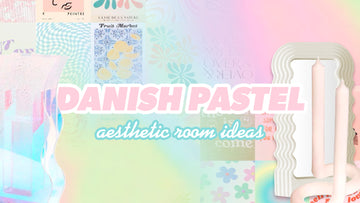 Table of Contents
Danish pastel décor is quickly becoming one of the most popular aesthetics, especially for bedrooms. With light and bright colors, curvy lines, and Scandi-inspired art, this room aesthetic is adorable and fresh. It shares several characteristics with soft girl aesthetic and Scandinavian design, which are also trending right now.
Elements of Danish Pastel Room Design
You don't need to change every single thing in your room to get the Danish pastel aesthetic. Just add a few accessories and you'll have the style you're looking for! To get the look you're going for, you need to incorporate a few of the following key elements:
White or Light-Colored Walls
Colorful pastel accessories will pop against white walls, which are a staple in Danish design. White walls also let the sunlight bounce around your room for a fresh and airy vibe.
Cr: @kspring
Danish Pastel Art
Danish pastel rooms usually incorporate colorful pastel art prints, often with flowers or quotes. One beautiful option is our Pastel Flower Market Canvas Posters. We suggest that you choose the art that makes you the happiest!
A Wavy Mirror
Fun-shaped mirrors are a staple of this style. They often have wavy edges or irregular shapes. We love the Retro Wavy Ultrafragola Mirror in a soft pastel color for this aesthetic.
Fun-Shaped Candles or Vases
Try our Blown Glass Candle Holder with Swirled Glossy Candles and have fun with different color combinations! Or go with the ombre Bubble Cube Candle. Perhaps you can even pick some wildflowers and put them in a vase like the colorful and funky Glass Bubble Vase.  
Flowers or Seashells Pillows
Make your room cozy with the Fairy Shell Pillow or Stuffed Flower Plush Pillow, both adorable options for creating a Danish pastel aesthetic! You can also choose other accessories in these shapes.
Colorful Pastel Bedding
The Dogtooth Korean Bedding Set is a great example of Danish pastel bedding with its soft yellow, lavender, and turquoise colors. Light green, light pink, and white are also perfect colors for your bedding.
Gingham, Plaid or Floral Designs
From rugs to bedding to tablecloths, these are some of the patterns most commonly seen in Danish pastel aesthetic. Consider Checkered Carpet to add a vibrant pattern to your room!
A Disco Ball
When the sun hits your Disco Ball, your room will be showered with specks of light! 
Cr: @kinevinje
Fun-Shaped Lamps
Add some light and color to your room with the adorable Pastel Lotus Table Lamp. It's available in several colors that will look beautiful with the Danish pastel aesthetic: light pink, light green, yellow, light blue, white and more! Alternatively, choose a lamp with a pleated, cone-shaped shade.
Make the Danish Pastel Aesthetic Your Own!
Keep in mind you don't need all of these items to create a beautiful Danish pastel room aesthetic. Your room should be as unique as you are with items that reflect your individual taste. But hopefully, these room décor ideas will help you get started! Find everything you need to create your favorite aesthetic when you browse our shop today!
Keywords: Danish pastel aesthetic, Danish pastel room