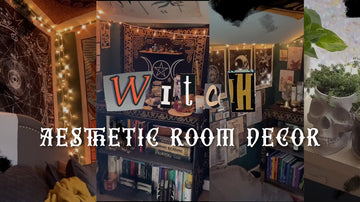 WHAT IS WITCH AESTHETIC?
Witchcore is an aesthetic focused on themes of witchcraft. It often has to do with how to perform spells, magic or collecting gems. This aesthetic also refers to clothing as well as home decor.
HOW TO MAKE A WITCH ROOM?
Any real witch will have a potion and herbs for any occasion. Also, the witch room does not skimp on decorative items. In the witch's room you will not find a free surface on which there would not be candles, crystals, dried flowers and other magical attributes.
At some point, there are so many objects that you even begin to realise that the room started to live its own life. Seem like that? Congrats! You literally own a witchcore room. But if not, here are the things to begin with:
WITCHY WALL DECOR
In order to create a moody atmosphere in your room use dark shades of green, purple, brown or blue colours for painting room walls. On the contrary, you can also use earthier tones to create naturalness. Wall decor have a great impact on creating a witchy ambience. Start with witchcraft posters and tapestries. They are really easy way to start your witch room makeover journey.
WITCHCORE BEDDING
Bedding is the crucial thing in making complete look of your room and it always catches an eye. That's why dark bedding sets will be an ideal choice. You can complete the look of your witchy bedding with some astrology style cushions.
WITCH ROOM DECOR
Nature's witch aesthetic room cannot be complete without those decorations filling the allover shelves. You can star with skull shaped candles, table mirrors, natural crystals, wooden beads and tarot cards.
WITCH LIGHTS
To complete your witchy room decor make sure your room is filled with warm lighting. Remember to avoid bright white lights. Here the types of candles work really well to make your room calm and get a moody atmosphere.
Explore these and many more witchy items in our Witch Room collection.