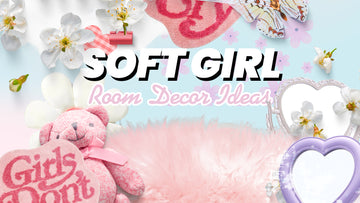 Having a cutesy type of bedroom is becoming a very popular option. It provides an appealing aesthetic look that many girls of all ages are finding is ideal for them. However, it is also important to find the right accessories and furniture to make your room into the soft girl room that you desire. These types can help you to reach that look.
What is the Soft Girl Aesthetic Room?
In understanding what helps to make the right type of room look, it is important to establish what the ambience actually should be. The soft girl aesthetic is a prevalent choice among young girls, but many older women are finding it appealing as well. It is a look intended to be more immature and cutesier looking. It is a very feminine look that is deliberately so. This room is for the girl who is proud to be a girl.
Some Great Choices to Consider
If this sounds like what you are looking for, there are a number of great choices to help get the look you desire. Here are five you want to consider.
Start with the Walls
Where you want to begin is with the walls. This includes the décor you select as well as the colors. The younger girl likes such things as unicorns, flamingos, and hearts, and there are great options available to you. You can go beyond this with collages, prints, posters, and wallpapers as well.

Of course, what you put on the wall is only part of the look. You also want to look at the color palette as well. The soft girl color scheme is based on traditional girl colors, like pinks, yellows, light blues, and light grays. Things that say, "I'm a girl and proud of it!"
The Bedding

The bedding is a big part of the soft girl room. You want lots of pillows, plush toys, and teddy bears. You also want a big fluffy blanket or duvet. Bedding patterns matter as well as you want to find simple white ribbed or ruffled duvets or the ones that are printed with animals, strawberries or hearts. The cuter, the better.
Cute Accents
The soft girl rooms are all about small cute pieces that add that vibe. Heart shaped mirrors, alarm clock, girly accent rugs and baddie neon signs. They are all playing the role.
Choose a Scheme
You may also want to consider a specific theme for how you are going to decorate your room. Instead of selecting an assortment of ideas and accessories, go with an overall motif, like going tropical. You could choose colors, patterns, and displays that make you feel like you are on a tropical island. A beach is a great place for a girl, after all. You can go with a space look, with galaxies, glow-in-the-dark wall patterns and pieces, and planets. There are lots of great scheme options out there.
Lights to Capture the Mood
The last idea is to have the right types of lighting, colors, and number of lights. You may even go with a Christmas type of light that can change color to match your mood. Go wild and enjoy. The great thing about the Soft Girl Aesthetic is that you can individualize it to meet your style.
Go check our Soft Girl Aesthetic collection to find more cute items to make your soft girl dream room come true!
5 comments