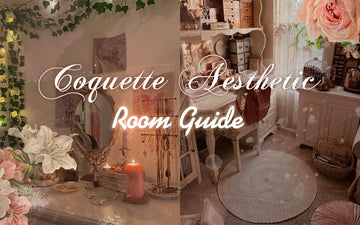 Have you ever wished to showcase your vintage style but in a feminine and flirty manner? Well, the Coquette Aesthetic has got you covered! Coquette aesthetic is also known as "dolette" and this certain style has been on the rise on TikTok lately and has garnered more than 900 million views and still counting.
What is the coquette aesthetic?
Coquette means "flirtatious woman". Coquette aesthetic is in hearts of many Tumblr Girls and TikTokers. It is a mix of cottage core, angel core, Lolita, and indie E-girl with the added flair of vintage from the era of the 50s and 60s. Coquette is a lifestyle that is being adopted by many as it is about embracing the playful hyper-femininity while being subtle and real with your cottage-core style. It is characterized by frills, lace, pearls, and soft pastels adding to the whimsical romantic vibe.
HOW-TO: Decorating Coquette Room
Here are some of the ideas that will help you to achieve the coquette aesthetic and transform your room. 
Coquette Aesthetic Furniture
For a coquette aesthetic, having the right furniture is a must! Let's begin with the bed frame that should be antique so opt for a wooden be post and a matching nightstand beside it. Opt for the 1950s, 1940's and 1960s era of furniture and combine it with modern furniture if you want a unique spin on your Coquette aesthetic.
Coquette fashion often incorporates pastel and vintage floral prints. You can add your twist by adding fruit/flowers-inspired furnishings and accessories or buying bed sheets with such prints. You can even opt for chairs and couches with the print.
Coquette Desk Decor
Decorating your makeup or bedside table, study desk or any other surface you keep your "specials" on is a crucial in coquette aesthetic.Here're few things you may need to bring a coquette touch to your desk.
Openwork or vintage styled table mirrors:
Vintage jewelry and storage trays:
Retro and lace desk mats:
Lace is feminine and intricate, so don't be afraid to go overbroad on lace! Lace embodies the perfect coquette style and complements the frilly bed linen perfectly. Add lace curtains and lace placemat for a look that will enhance the all-over look of the room while giving you added vintage vibes.
Floral Vines Will Never Make it Worse
Flowers embody romance and a unique way for an added flair to your coquette aesthetic. You can intertwine them through your headboard, you can drape them from the ceiling, or hang them on the door and window. You can either get a vintage inspired cottagecore style Flower Garlands or go with classic Artificial Vines.
Touch of Pastels and Earthy Tones
Your room color palette should consist of pastels such as cream soda green, pastel pink, or Earthy tones including cream white, and a light shade of brown. If don't want a childish look to your room you can opt for other neutral hues and balance it out with bright shades of pink. You can even go for subtle shades such as green, gray, and blue.
Coquette Wallpaper & Wall Decor
Wallpaper can add to a big statement in your bedroom. Add floral wallpaper or fruit-inspired wallpaper behind your bed or on a single wall, this way your room won't feel or look claustrophobic.
You may also like adding pale, romantic or artsy wall collage cards over your bed or study desk:
Coquette Candles and Candle Holders
Candles can switch the whole vibe! The Coquette aesthetic will be completed with the addition of candles that come in a floral or fruity fragrance. Choose colors in white/beige or pale tones to go with your room. You can even choose some vintage–inspired candle holders such as brass or vintage french glass candle holders, to bring it to a new level. Also, opt for eco-friendly candles. You can go for soy wax candles as they are natural, biodegradable, and renewable.
Other Coquette Room Details
Part of a coquette aesthetic is a book collection that features a feminine theme and antique look. Keep a bookshelf upright and display your favorite classic books on the shelf. Apart from that, you can also display stuffed animals that provide you with comfort and serenity. Also, do not forget to show off your perfume bottles.
Coquette aesthetic is all about love and romance and how you can showcase it while being feminine. With these room décor ideas, hope you will make your dream coquette room come true!
5 comments