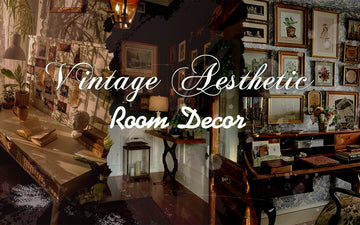 How do I know it's Vintage Aesthetic 🤔
Vintage is a collective definition used to refer to styles that were trending in past or to be considered nostalgic or old school. Vintage aesthetic is all about old and retro things. Everyone can define what vintage is in their own way, and anyway they will be right if the style was born several decades ago. 
Vintage Aesthetic main tone and color palette
Before you rush headlong to buying up all the junk from the neighboring flea market, decide on the main tone (dark or light) and the lead color. Vintage style in most cases is all about classic. So you can go with muted earthy tones like dark shades of brown, dark green (yeah, the color of the leather upholstery on the chairs in Irish pubs), dark jerry with a bit of gold accents for dark tones vintage. But if you prefer to leave languid cigar smoking on a dark brown leather sofa for your retirement you can go with light vintage tones like brushed whites, light woods, beige and light olive shades.
Vintage Decor
Okay now. Lets move on to the most interesting part of decorating a vintage aesthetic room. The DECOR itself! (thx cap) I'm not going to paint here for a long what things you will need to create the atmosphere of your French great-grandmother's apartment, but I'll just propose a few things to you for a note instead.
Get a look at this Vintage Retro Radio Bluetooth Speaker first. This cutie will bring the right vintage vibes to your room. Put it on study desk or near bed and you're one step closer to get your vintage dream room.

Now, when you got a first peace...let's get another! Check this vintage flip table clock! This one is really nice to have on your desk ;)

Okay, I guess we covered the desk space for now. If you still fill that's not enough you can throw an eye to these cute vintage table mirror and little antique styled metal trays.

Vintage Lighting
If you want to get really vintage vibes you wanna get bold, dimmed WARM lighting. When it's about lighting your room it's always about the purpose of the room. But for vintage aesthetic try to get it really in candle lighting style. You also may want some mini retro table lamps.

Vintage Bedding
It's quite simple to achieve retro vibes with your bedding. You can go anywhere from simple white cotton sheets to bold, lush bedding sets with laces and pale dusty floral patterns. Take a look a this one.

Vintage Wall Decor
It's better to have curvy patterned vintage textile wallpapers. But if you're not eager to spend your parents' entire salary on one roll you could go with some kraft paper posters, few canvas art paintings in a vintage baguette and a couple of wall lamps. Also check this vintage wall collage cards. That will be he easiest way to get the vibe.

So this was just a short guide for you to make first steps into vintage aesthetic. For more inspo and products check our Vintage Aesthetic Room Decor collection. I bet you can find there something that will hit your vintage heart =*