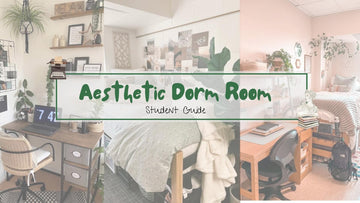 In the fast-paced and ever-changing world of college life, it is important that every student has a sanctuary where they can unwind and recharge. Whether it's nap time between classes or pulling all-nighters during Finals Week, you need a place that you can call your home away from home. When it comes to dorm rooms, they seem so bare, boring, and probably reminiscent of a concrete prison cell. But honestly, there's so much potential within these four walls.
With a little creativity and some careful planning, you can transform your drab dorm room into an aesthetic haven that reflects your personal style and creates a cozy atmosphere conducive to productivity and relaxation. Honestly, whatever aesthetic you're currently into, you can hands-down expect something gorgeous that'll make you never want to leave. So get ready to unleash your inner interior designer as we dive into the art of transforming your dull dormitory into an elegant oasis that will impress even the most discerning eye!
Choosing the Right Color Scheme: Creating a Color Palette that Reflects Your Style
So, when it comes to making an aesthetic dorm room, just like any aesthetically-pleasing bedroom, it's all going to start with colors. You can basically think about it like this: selecting the perfect color scheme for your dorm room is essential in creating an aesthetic haven. But when it comes to any aesthetic, whether it be kawaii, goblincore, Danish pastel, etc., it's all about complementing colors that pair up nicely together.
You can have an aesthetic while the colors are a bit different, so in the end, it not only needs to be cohesive in some sort of way, but it also needs to reflect your personal taste. So, here's what to think about when you're thinking of the right color palette:
Consider your personal preferences: Think about colors that make you feel happy and comfortable. Do you prefer warm, earthy tones or cool, calming shades? Take some time to explore different color palettes and find one that resonates with you.
Keep it cohesive: This was already stated above, but this definitely needs to be hammered on- cohesion is going to be what makes your dorm room look put together, and it's also going to help with making it obvious what aesthetic you're achieving. So, once you've chosen a color palette, ensure that all the elements in your room - from bedding to curtains to wall decor - are harmonious. This will create a sense of unity and balance in the overall design.
Add pops of color: So, cohesion is important, but if the dorm, even if it's just your side of the dorm that looks too matchy, it's going to look weird and probably even "off." While sticking to a consistent color scheme is important, you shouldn't be afraid to add pops of contrasting colors, either. Honestly, it's best if these come through accessories like throw pillows, plushies, or artwork. These accents can inject personality into your space and make it feel more vibrant.
How to Maximize Your Space
One of the worst things about dorms isn't only for the fact you're having to share a room or even all of the concrete walls; no, it's the lack of space and the odd layout that you're stuck with. Dorm rooms have major space constraints, so you need to make the most out of what little space you have. For the most part, this means having to choose furniture that serves multiple purposes. Sometimes, universities will automatically provide furniture, so this could make things more challenging.
Then you basically only have options such as vertical storage (which can't be nailed or screwed in) or space such as under your bed- which bed extenders could come in handy with. What little space you get on your desk can honestly be utilized, too, such as getting desktop organizers, foldable storage crates, and small shelves for your desk. If you're getting a blank canvas and you can provide your own furniture, then definitely utilize this, such as getting a loft bunk bed so you can tuck a space underneath.
Choose Your Aesthetic Bedding
Your dorm room is essentially your bedroom, and when it comes to bedrooms, it's the bed that takes center stage. When you have friends over, or even classmates you're planning to study with, the first thing they're going to notice and most likely comment on is going to be your bedding. While yes, comfort matters greatly, this is more or less easier to achieve than the style aspect itself. You'll want to opt for bedding sets that reflect your personal style and create a cozy atmosphere in your space.
Choose bedding in trendy colors and patterns, such as geometric designs or pastel hues.
Don't be afraid to mix and match different textures and fabrics for added visual interest. Textures mean depth, so why not go for some cute ruffles for a princess feeling or even some fringed bedding for that hint of depth?
Layering pillows with different shapes, sizes, and textures can instantly elevate the aesthetic appeal of your bed. Plus, when you're just wanting to lounge on the bed, it's going to be far more comfier. You can have throw pillows, plushies, and even different fabrics and textures of pillowcases, too.
But comfort is still going to matter, too. So why not consider investing in a comfortable mattress topper or memory foam pillow for added comfort during those late-night study sessions? The mattresses that are usually provided are almost always stiff and haven't been replaced in years if not decades, so a mattress topper is going to immediately make the bed not only look comfy but feel comfy, too.
Don't forget about your rug; the floors in dorms are usually concrete or some other cold and hard flooring. When you step out of bed, the last thing you want is to have a cold feet jolt you awake. Having a nice rug is going to make your floor appear warmer, and it's going to nicely frame the bed.
Wall Décor: Adding Personality and Visual Interest
You can have gorgeous, aesthetically pleasing bedding, but if your walls are blank, it's going to make the space feel unfinished. While, yes, most dorms have rules about what you can do on the walls, you don't always need nails or screens to get what you want on the walls. Most dorms entirely welcome adhesive hooks, such as Command Hooks, and these can hold onto mirrors, framed photos, and sometimes even shelving.
Of course, there are weight limits, but even adding imagery on the walls is not only going to help with achieving that aesthetic you're wanting, but it's also just going to make the room have some life rather than those ugly, outdated concrete walls. So, here's some ideas you might want to try.
It makes your side of the dorm immediately look different, unique, and fun, and whether or not you're after a particular aesthetic, just adding wall stickers alone will just make the dorm look better in general. Something like the Cow Spot Stickers are a great option since these can be added to walls or furniture, giving your space a unique twist that other people aren't just going to have.
Lighting: Creating Ambiance and Functionality
When it comes to any room, it's going to be the lighting that sets up the whole tone. So, proper lighting can completely transform the atmosphere of a dorm room, adding both functionality and style to your living space. Usually, there's already lighting included in the dorm, most likely fluorescent lighting, so you might not be able to switch out the light fixtures. So, taking ugly fluorescent lighting out of account, you can still create gorgeous lighting in the room. So, you might want to take a look at your curtains first or whatever window treatment the dorm is going to have, as you want natural light to come in during the day.
With that said, you'll then want to focus on other lighting options, especially once nighttime hits. Be sure to check to see what type of lighting is and isn't allowed at your university dorm; while something like neon signs on the wall might be amazing, it might actually be banned. The same might be said for LED lights too, but for most universities, you can at least expect table lamps and string lights to be allowed. But again, make sure you check to see what's allowed before deciding what you want for your little aesthetic paradise.
Creating a Study Nook: Designing a Productive and Inspiring Workspace
The desk is one of the most important parts of the dorm room, one of the most important aspects of your student career. Studying in the library can be nice, but studying in your dorm room can be better, especially when it's comfortable. Most dorms will already have a desk provided in the room itself. Of course, you'll want to make sure you have enough space for all your study materials and that the lighting is adequate.
So, even when it comes to your desk, you can create something that's not only functional and well-organized it can still meet the aesthetic you're wanting to achieve. Want some dark academia? Yeah, that can be done. Want something more Y2K? Yeah, absolutely; even going for a Kawaii desk is possible, too. It's about what you put on the desk and how you decorate it.
Maybe you want to add a nice candle lamp if you're wanting something more Dark Academia when it comes to lighting. If you're after some Kawaii, then this Toaster Night Light Lamp would be spot on. These are just a couple of examples when it comes to desk aesthetics and lighting, but it's to make a point how easy it is. When it comes to desk organization, you basically can't go wrong with anything since desk items are super neutral. Like this Under Table Stationary Storage can honestly be neutral enough to go with basically any aesthetic.
Your desk can be one of the more fun and least stressful things, but it doesn't take much work for this to be a part of the aesthetic you're after. Just don't forget those finishing touches, like a seat cushion or the decor surrounding the desk.
Plants and Greenery: Bringing Life and Freshness to Your Space
Okay, Okay, so plants aren't needed for a dorm, but for basically any room, they're great to have. They're a simple yet effective way to transform it into a vibrant, aesthetic haven. Not only do plants provide visual appeal, but they also bring life and freshness to your living space. Ideally, it helps to get a real plant since they boost air quality, but if you lack a green thumb, then some artificial plants can do the trick. But if you still wanting to have some greenery in the room without the stress, then getting some fresh-cut flowers and a gorgeous vase can do the trick, too.
Finishing Up Your Academic Oasis
In the end, while you might only live in this dorm room for a couple of semesters until you move to your next space during university, it's important that you like this space. Your dorm room, just like the university, is your home away from home. You need to be able to love this space and feel entirely comfortable in it.
So, picking an aesthetic that you adore and something that totally resonates with you is going to be the best way to do it. Half of that room belongs to you, and so half of that room should be what you want it to be. Just make sure it's something you want to stick with, something that makes you happy, comfortable, and, most of all, stays functional.